This post may contain affiliate links.
This post is part of the 2019 Homeschooling Through the Holidays series and was written by Bronwyn from Hustle and Homeschool. 
Homeschooling through the holidays can be a challenge. Kids are excited, families are busy, and let's be honest, all we really want to do is read Christmas books, watch holiday movies, and make seasonal crafts! You know what? I say, go for it! Enjoy the holiday season and theme your homeschool activities around Christmas! To help you in that endeavor, I made these elementary Christmas writing prompts throughout the month to help kids hone their writing skills!
The first writing activity you should do is a letter to Santa! Kids LOVE writing to Santa. It's a great way to kick off the Christmas season, and then you also know what to tell relatives when they come asking about gifts for your kids!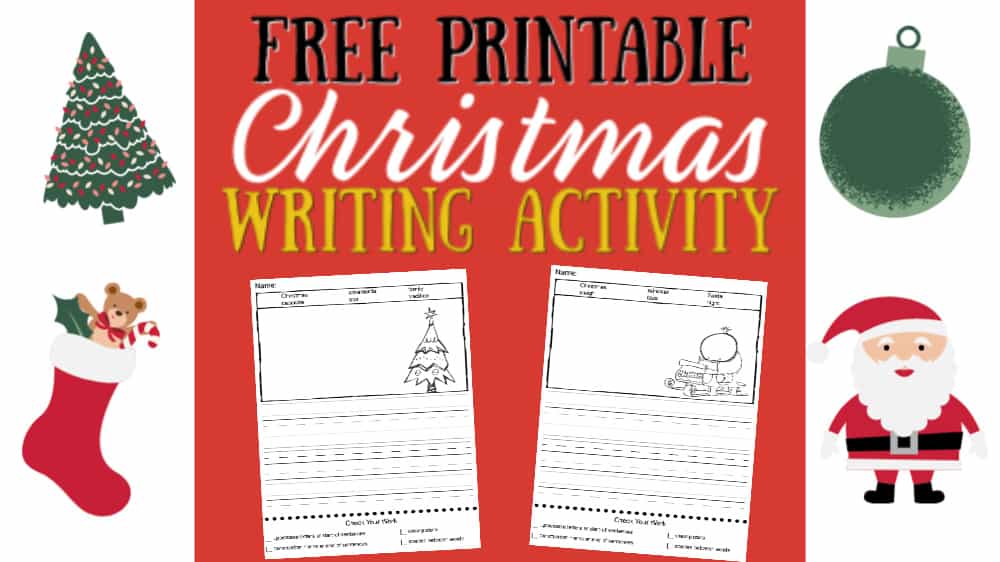 These prompts are intentionally open ended so that kids can get inspired and write what they want. They aren't traditional prompts, instead they are a combination of a picture and word bank.
There are 4 pages:
A Christmas Tree
Santa's Sleigh
A Christmas Gift
A Snowman
The word bank includes words that could be difficult for young kids to spell, but that they will likely want to use. With the word provided, they'll be able to write more independently and not get hung up on spelling. There's also space for them color in and finish drawing a picture!
At the bottom of the paper, there is a checklist to help kids remember important aspects of writing and learn to edit their work afterward. The checklist includes:
Uppercase letters at the beginning of sentences
Punctuation marks at the end of sentences
Draw picture
Spaces between words
These are all things that kids can struggle to remember, so this little checklist will help them improve their writing.
If your kids are really excited about writing, you can always add more paper for them! I know sometimes my first grader will get on a roll and want to make his own book. Other times a stack of paper would be overwhelming though.
An excellent addition to these would be to pick out a related Christmas book from this list of 25 Christmas Books. Then they could write about the book or do their own creative writing.
I'm planning to use one of these Christmas writing prompts per week with my first grader. We'll be including these in our Christmas Countdown Activities too.
These Christmas writing prompts are geared toward kindergarten through second grade.
Remember if you have a reluctant writer, you can have them dictate while you scribe for them! This is a great way to get those creative storytelling muscles going without the pressure of having to write.
Enjoy the Christmas season more by doing holiday themed activities in your homeschool. These elementary writing prompts are a fun and educational activity to do with your kids.
Pin it & Share!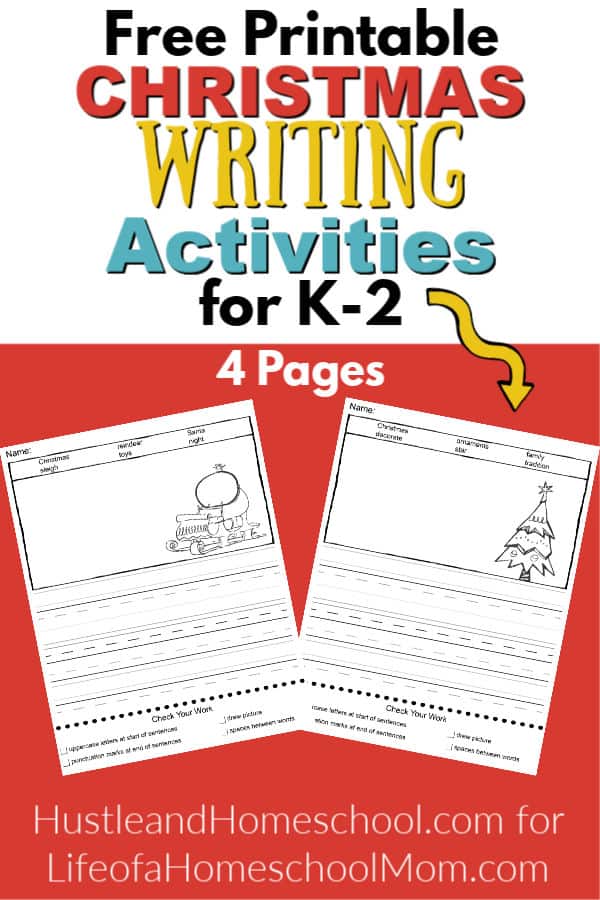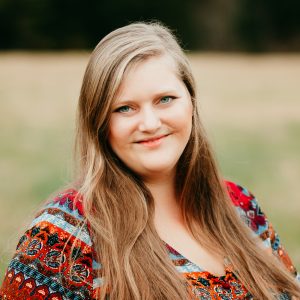 Bronwyn Blodgett encourages moms to homeschool well and pursue their passion at Hustle & Homeschool. She is the mom of 3 boys and a photographer. She doesn't have it all figured out, but with 5 years of balancing a business and mom life, she has plenty of tips and advice to share! Connect with Bronwyn: Facebook | Instagram
Be sure to take a few minutes to visit the sponsors of the 2019 Homeschooling Through the Holidays series: