This post may contain affiliate links.
This post is part of the 2019 Homeschooling Through the Holidays series and was written by Melissa from Beyond Mommying.
For many families, the holiday season is synonymous with traveling. As families have spread all over the world, getting together for the holidays has become more challenging and can often mean large amounts of time in a car or airplane getting from here to there, which can cut into school time.
Even with the best intentions and prior planning, flight delays, traffic, and innumerable other things can make your door-to-door time even longer than anticipated. And with kids along for the ride, those hours (or days) spent traveling can feel like torture because even the most experienced of young travelers has a limit to their patience and attention span.
We began traveling for the holidays as a family over a decade ago when my eldest daughter was just a few months old. Flying was easier then, she was small and easy and slept sweetly in her car seat nearly the entire flight, both ways. But add three more, less easy, kids and many, many flights and road trips to our experience and I've definitely become accustomed to planning plenty of entertainment when we're on the road or in the sky. And if I can make those activities fun and educational, that's even better!
These are some of our favorite educational games for traveling during the holidays: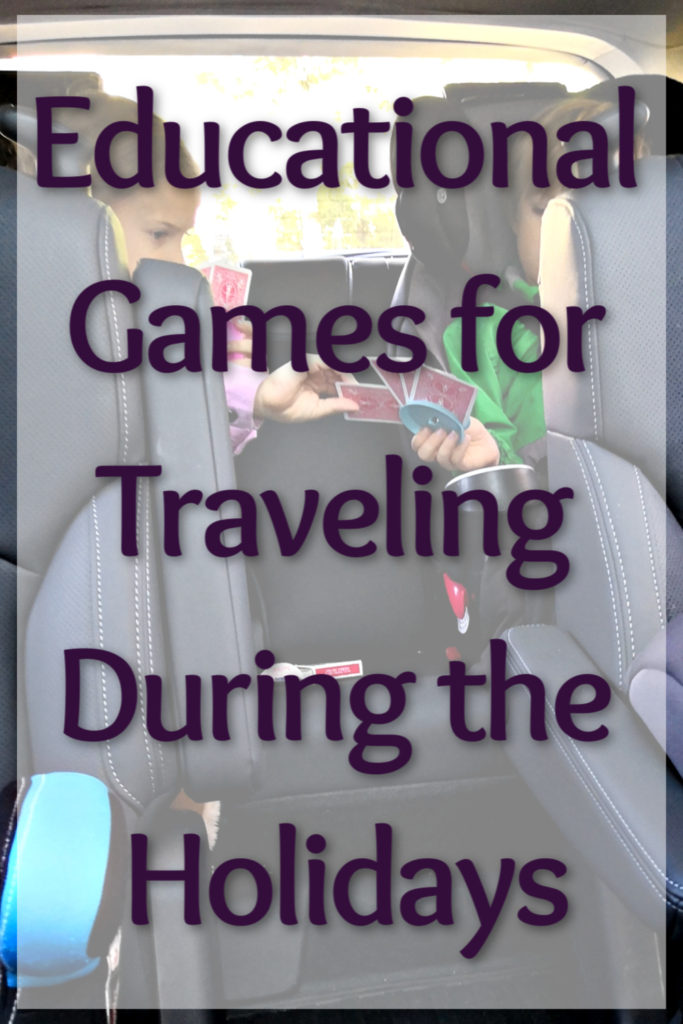 Wipe-off games
Games like tic-tac-toe and hangman can provide hours of entertainment but they can also use a lot of paper. Which is why I created printable versions which I place in wipe-off folders (you can use simple page protectors or more sturdy dry erase pockets) and play with white board markers, making the games infinitely reusable. But these games can also be educational. Tic-tac-toe and dot games help teach strategy while word games reinforce spelling and vocabulary.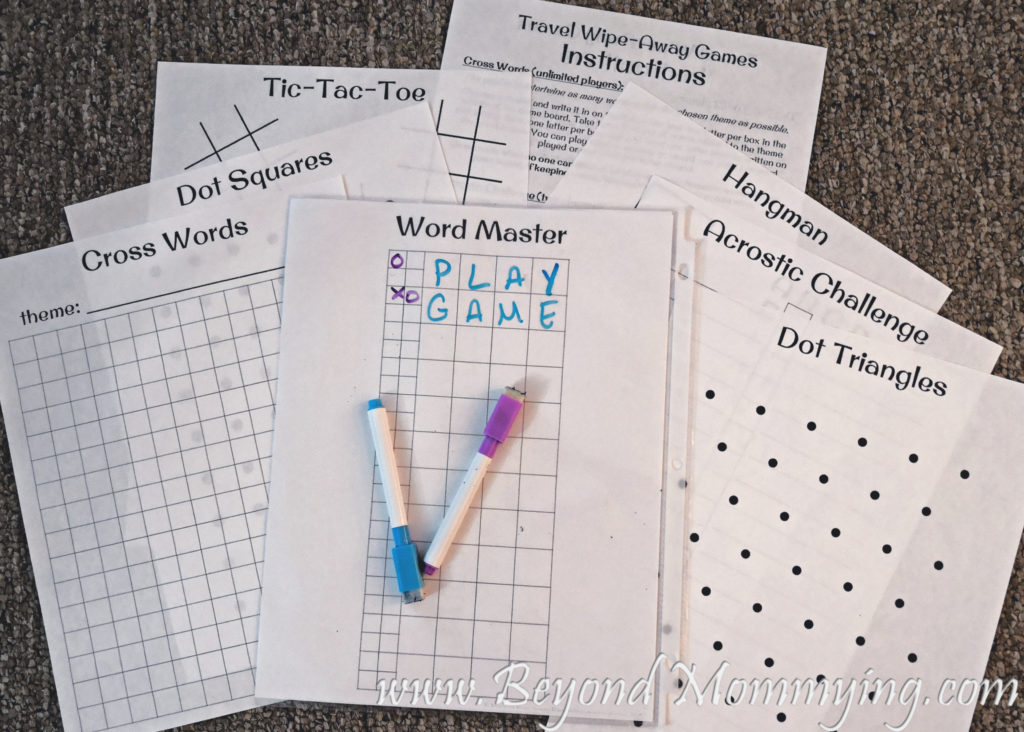 Through the end of the year, get 30% off my printable wipe-off travel games, air travel games and activities, and road trip games and activities with the code "homeschoolholidays".
Mad Libs
I loved doing Mad Libs as a child with my sister. We would go through pages and pages at a time crafting funny stories. And now there are so many themes available covering holidays like Christmas and Thanksgiving and what feels like every movie and character in existence plus more educational options like History of the World Mad Libs and Dinosaur Mad Libs.
Playing Cards
From War to Crazy 8s or Go Fish and Old Maid, the game possibilities with just a standard deck of cards is endless. Plus, most card games reinforce math skills from basic number sense to quick mental math. They're also great to have on hand (I actually carry a deck in my purse at all times) because they allow for single player or big group play so a bored child won't need to find a willing sibling or parent to play with them.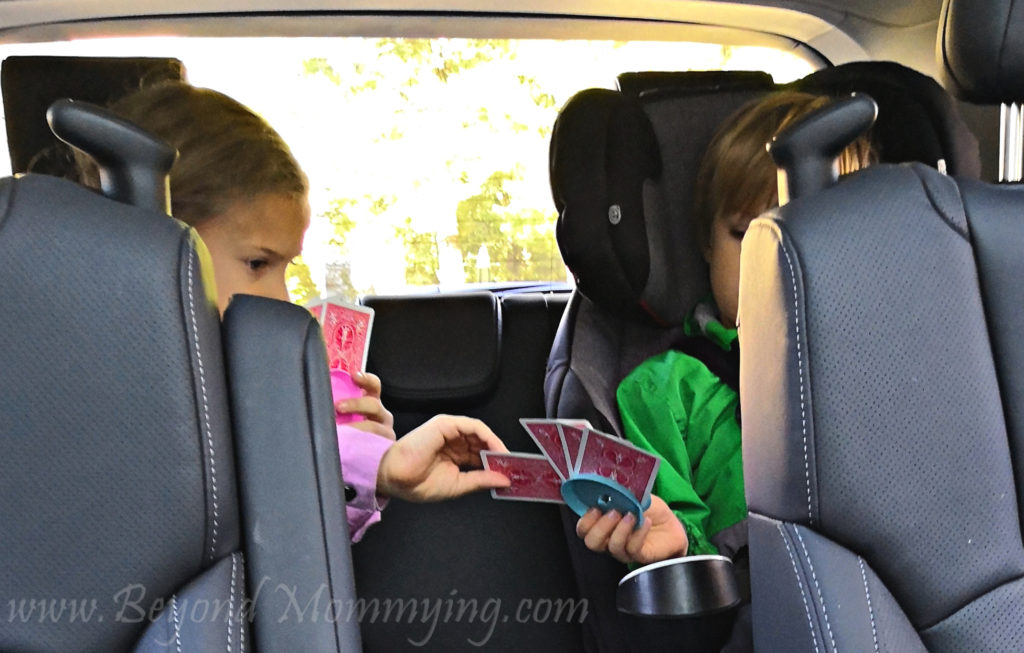 Story Starters
There are a few different story starter versions out there from cards to dice to books and are all another great way to pass the time when traveling for the holidays. Story starter books like Cliffhanger Writing Prompts encourage kids to think creatively and, if used orally, can provide years of fun as kids and their storytelling grows. Story cubes and dice are available in different versions to either provide a jumping off point for creating a story or for reflecting and retelling stories after reading. Story cards have options available for all ages, including educational topics like Community Helpers and Ocean Adventures for younger players, which encourage storytellers to creatively combine various characters, settings, and objects.
Dice Games
A few years ago, we were gifted a lovely set of over-sized dice and printed instructions for various games in a cute little carry case. This has become one of our favorite additions to our travel bags because it's compact. And, much like cards, there are so many games for players of all ages that you can play with dice that reinforce different math concepts and ideas.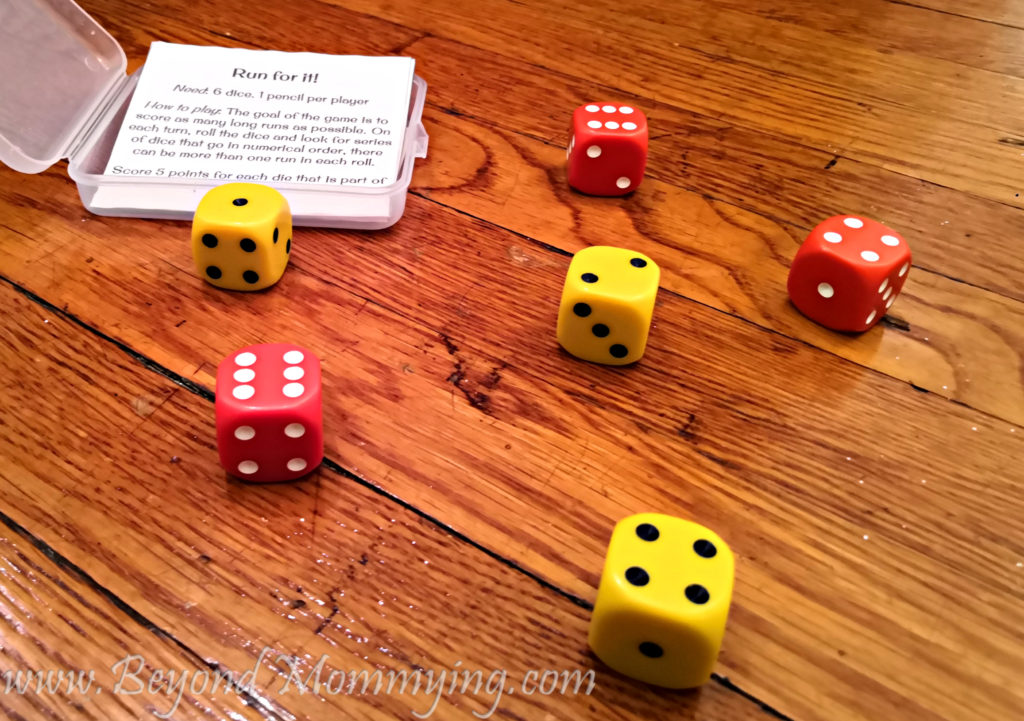 Get my free printable dice game instructions.
About the Author: Melissa Roy is a homeschooling, ballerina mommy of four and lives by the motto "Life is never boring when you're never alone, but I know somewhere out there, there is life Beyond Mommying." She shares her parenting adventures on her blog Beyond Mommying. You can also find her on @BeyondMommying on Facebook, Twitter, Pinterest and Instagram.
Be sure to take a few minutes to visit the sponsors of the 2019 Homeschooling Through the Holidays series: