This post may contain affiliate links.
This post is part of the 2019 Homeschooling Through the Holidays series and was written by Bekki from A Better Way to Homeschool. 
Your kids see the calendar flip to November and suddenly they are ready for the holidays, right?
It's the same in my house.
We all love this time of year as we prepare to bundle up, snuggle in and celebrate the birth of our Lord and Savior.
Every family, every home, every heart can prepare Him room; but some of us are lacking creativity. While we don't need to be Pinterest perfect to celebrate the birth of our Lord, we can add a handful of traditions into our lives and show our children how to embrace this season with the same enthusiasm as a homeschool mom embraces that first cup of coffee.
Good News!
I've scoured the internet to bring you fun, creative, and wonderful ideas to help you celebrate Advent this year. Be sure to bookmark this for later. And take it slow. It really only takes 1-3 activities to help your holidays stand out as you celebrate JESUS!
7 Wonderful Ways to Celebrate Advent Together
1. DIY Advent calendar
Advent calendars are special delight for kids. They are meant to celebrate each day in a small way as we count down the days to Christmas.
They can be as simple as printing a calendar and adding designs each day:
DIY Advent Bags are fun too! Just gather 24 bags and fill them with little treats to be opened each day.
Yes, it's also ok to buy a keepsake Advent calendar too.
I know. It's not a nativity, it has a little santa, and there are no wise men or donkeys.
2. Advent Music
Introduce a new Christmas song every day of Advent! This is the EASIEST tradition to start this year! You can create your own playlist, print out the words, dig in tot he history behind the lyrics, or just listen.
3. Advent Printables
Oh, these are the easiest things to incorporate into your advent celebrations. Click, print, and be that cool mom!
I created this Advent and Jesse Tree Printables Packet a few years ago and each year I add a few new activities. The great news? Once you grab your copy, you can simply re-download each year!
These advent acts of kindness cards from Mum in the Madhouse are worth the ink!
4. Advents Acts of Kindness
Spread the JOY of Christmas by blessing others! It's always time to be kind, but it's especially fun to enlist kids as secret agents on a mission to bless others
Write a letter to a loved one, or a soldier over seas
Bring gifts to the local women and children's shelter
Make Cookies and give them to a neighbor
Participate in Operation Christmas Child
Trick or Treat for canned foods and deliver them to the local food bank
Complete one Act of Kindness a day
5. Advent Crafts
Make salt dough ornaments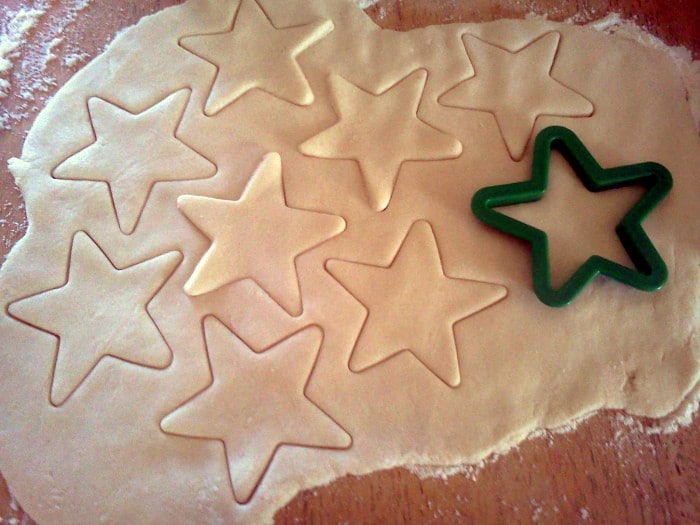 Make thumbprint Snowmen Ornaments!
Make handprint tree skirt
Make foot print Penguins
Related: 30 Adorable Handmade Christmas Ornaments
6. Advent Games!
The holidays are filled with plenty of opportunity to overstuff your calendar with fun stuff that drives you crazy. Make time to sit at the table, or around the fire and enjoy each other's company and you play a game together
Learn biblical history and geography as you play Portals and Prophets. No biblical knowledge required, so you can play with your entire family whether they know the Bible yet, or not!
7. Advent Books
The day after Christmas, I bring out wrapping paper and gift wrap my favorite Christmas Picture books for the following year. Then, those books get packed away until the following Advent Season.
I am one of those people who decorates for Christmas BEFORE Thanksgiving, and my kids LOVE seeing those books get nestled under the tree.
Each day, a child gets to pick a book to be unwrapped and enjoyed together. It's one of our FAVORITE traditions!
I love picture books in general, but there's something magical about a Christmas story, a child in footed pajamas and a mug of something warm and wonderful.
Yes, it's time to plan for advent season. With a few supplies, some paper and ink, and a few ideas, your family will delight together as you add new Advent traditions into your home.
Oh, Come let us adore Him…
---
Bekki Sayler is the creator of A Better Way to Homeschool, author of Homeschooling From the Inside Out, and homeschooling mom of five rambunctious sons. Yep. She says it's as crazy as it sounds!
Bekki is most thankful for the love and support of her husband of almost 30 years. When she's not dodging nerf bullets or stepping over piles of Legos, she creates classes, printables, books, and resources to encourage Christian homeschool moms to trust the Lord in their journey. Her heart's passion is to share the truth that it is possible to educate your kids using God's word as a guide while focusing on the holy trinity of homeschooling: heart, attitude, and character.
Be sure to take a few minutes to visit the sponsors of the 2019 Homeschooling Through the Holidays series: