This post may contain affiliate links.
This post is part of the 2019 Homeschooling Through the Holidays series and was written by Lara Molettiere from Everyday Graces Homeschool.
The holiday season is here again! Full of lights, laughter, parties, events, sugar, late nights, off bedtimes, shopping lists that never end. . . How is it that every year, we begin with the best of intentions and then somehow it's December 25th and we feel like it was us who got run over by a reindeer?
We homeschool moms are notorious for neglecting ourselves – even as far as to the detriment of our health. And by packing our holiday season full of all the activities, by saying yes to everyone who asks, by buying into the belief that "more activities makes it better for the kids", we are missing out on the beauty, rest, and refuge that Advent offers.
Advent is a time of both remembrance and expectation. It is a time to slow down.
To reflect on the wondrous gift of a Savior, fully God and fully Man, come down as a tiny baby to be the Bread of Life and Redeemer for us all is to marvel at the graciousness, mercy, and undeniable love of our Abba Father. There is no better place for the weary mid-winter heart to be rekindled than at the manger, feet, and glorious coming again of Jesus. These are the ponderances of Advent- may we keep them in our hearts as Mary did (Luke 2:19).
These things are heavy with the weight of Glory, but it is a weight that will leave you lighter for bearing it. As a busy homeschool mom, there are several ways you can make room for your own Advent studies and I would encourage you to do so. You will be so much more ready for the remaining school year after a restful Advent.
Adding in Advent or Holiday Homeschool?
First of all, there is no one right way to "do Advent". If you choose to add Advent studies to your regular homeschool studies, that's awesome. If you drop your regular studies to have what we call Holiday Homeschool (we focus on our Advent studies together and do a lot of fun handicrafts and service projects), that's great, too! Or maybe you do regular homeschool and just set aside a time for Advent study for mom in the evenings.
However your family celebrates, make sure you are choosing the path of celebration that will leave you all in a celebratory and rested mood come Epiphany. If that means saying no to a few activities, obligations, and even travel – do it!
A Prayer to Start the Advent Season
Prayer is always the best way to begin anything. But when we are already weary from homeschool and mothering, sometimes the words are hard to find. This lovely prayer from Renee Swope is a beautiful way to begin Advent when your heart is already tired and sore.
This Advent, Lord, come to the manger of my heart.
Fill me with Your presence from the very start.
As I prepare for the holidays and gifts to be given,
Remind me of the gift You gave when You sent Your Son from Heaven.
The first Christmas gift, it was the greatest gift ever.
You came as a baby born in a manger.
Wrapped like the gifts I find under my tree,
Waiting to be opened, to reveal Your love to me.
Restore to me the wonder that came with Jesus' birth,
When He left the riches of Heaven and wrapped Himself in rags of earth.
Immanuel, God with us, Your presence came that night.
And angels announced, "Into your darkness, God brings His Light."
"Do not be afraid," they said, to shepherds in the field.
Speak to my heart today, Lord, and help me to yield.
Make me like those shepherd boys, obedient to Your call.
Setting distractions and worries aside, to You I surrender them all.
Surround me with Your presence, Lord, I long to hear Your voice.
Clear my mind of countless concerns and all the holiday noise.
Slow me down this Christmas, let me not be in a rush.
In the midst of parties and planning, I want to feel Your hush.
This Christmas, Jesus, come to the manger of my heart.
Invade my soul like Bethlehem, bringing peace to every part.
Dwell within and around me, as I unwrap Your presence each day.
Keep me close to You, Lord. It's in Your wonderful Name I pray.
~Renee Swope, "The Manger of My Heart"
Advent Handicrafts for Mom
Another brilliant way you can tend to your heart this Advent season is by letting your creative juices flow. Not everyone is an exceptional artist. Not everyone wants to try painting, drawing, crochet, stitching, etc. If you love those things, make time for them. If you don't, that's okay! This option is great for everyone.
We all loved making things out of paper at some point and most still find it fun. Paper quilling is a delightful way to keep your hands busy while you listen to Advent carols, audiobooks or poetry, or the children playing joyfully outside in the cold while you have a cup of hot coffee.
These delightful Christmas Trees make wonderful ornaments, gift tags, and cards. If your children are interested you can even make them together.
List of Supplies:
Paper quilling strips
Green colored craft paper
Slotted quilling tool
Pencil
Scissors
Instructions:
Step -1:
Select 3 different shades of green colored quilling strips for this craft. I'm using 6 inches long strips and 12 inches long strips to create the different quilled shapes for this craft.
Step -2:
Take a strip and coil it with the help of the slotted quilling tool. Carefully take out the coiled strip from the tool and allow it loosen up freely.
Step – 3:
Press the loose coil on any point to form a teardrop shape. Glue the open end to secure the shape.
Step – 4:
Take a 12 inches long strip and fold it into half.
Step – 5:
Coil the 2 open ends of the folded strip. Coil all the way to the closed end (near the half fold part). This will form a heart shape.
Step – 6:
Take the teardrop shape formed in step 3 and place it inside the heart shape (between the 2 twirls of the quilled heart shape).
Step – 7:
Take a 6 inches long strip and coil the whole strip from any one end to form a twirl shape. Take a same colored quilled teardrop shape and attach it with the quilled twirl on its straight side. Create teardrops, heart shaped pieces with a teardrop inside and teardrop with a twirl attached to it.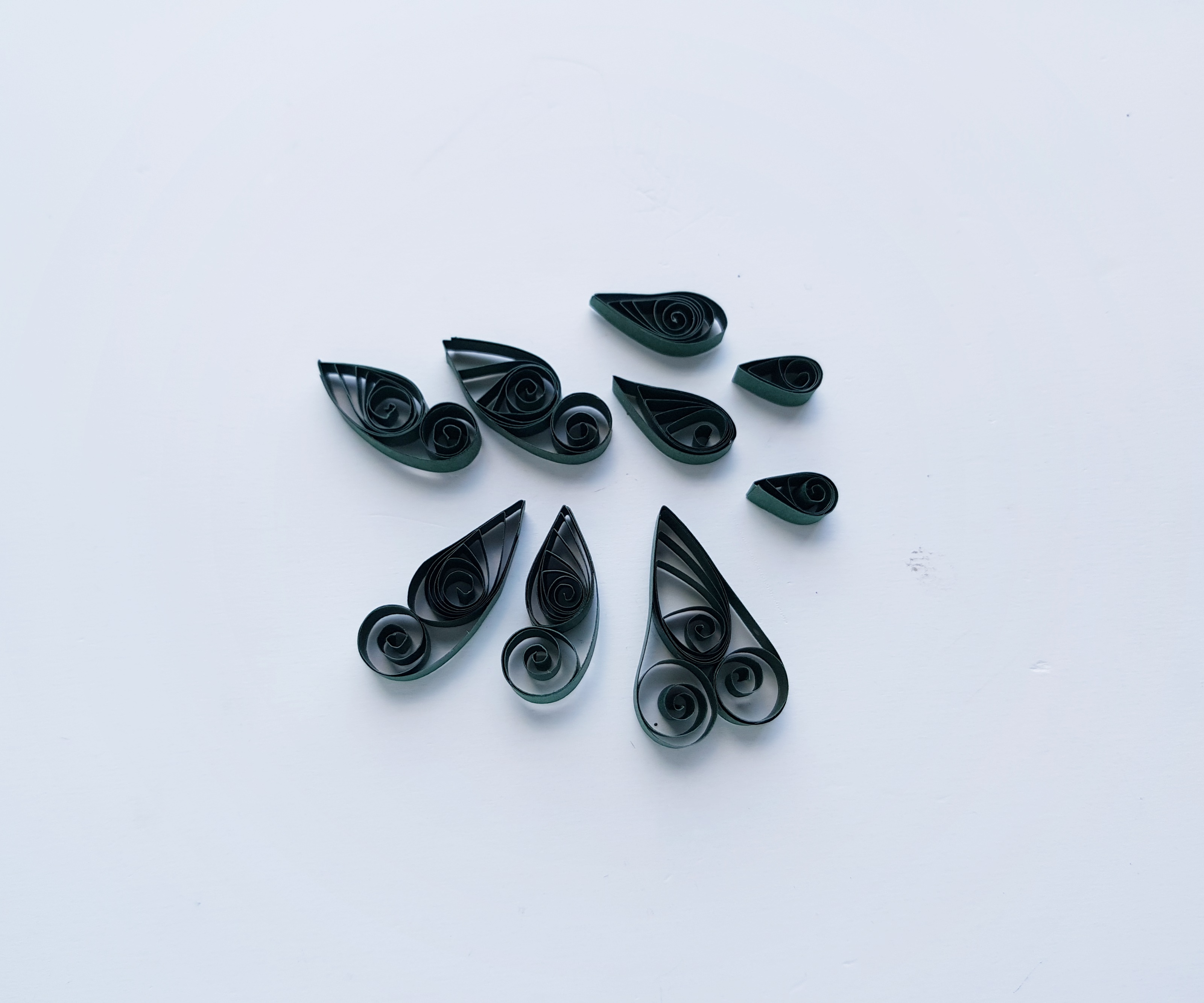 Step – 8 and 9:
Grab more paper quilling strips and create more quilled shapes.
Step – 10:
Cut out a piece of green colored craft paper and grab all the quilled shapes.
Step – 11:
Let's start from the top part of the tree. Grab 3 small teardrop shapes and attach them on the top side of the craft paper by keeping the pointy ends of the shapes facing upwards.
Step – 12:
Continue to attach the quilled shapes downward by keeping a tree shape in mind. For the next layer below the first quilled layer, I've attached a heart shape with a teardrop attached in the middle, teardrop with twirls attached on both sides and on the 2 outer sides, I've attached 2 teardrops.
Step – 13:
Grab different shaded quilled shapes for the third layer. Simply glue the quilled shapes downwards but forming a wider layer than the previous layer.
Step -14:
For the fourth layer I used the darkest colored quilled shapes. You can add more layers if you want to. If you are confused about the pattern, you can place the different quilled shapes on the paper before gluing them.
Step – 15:
Cut out the craft paper around the quilled patterns outer border. Quill a 5 point star pattern using yellow colored quilling strips and attach it on the top end of the quilled tree.
Step – 16:
Quill 4 loose coils using brown colored quilling strips and attach them on the bottom side of the quilled tree by forming a square shape with the 4 brown loose coils. Also, create some tight coils from red and other bright colored strips. Attach the tight coils between the quilled shapes of the tree randomly to decorate the Christmas tree.
Poetry and Books for Advent
Words can be such a balm to a weary soul. During the Advent season, it is a wonderful time to enjoy beautiful poetry by the fire with the twinkling lights of the tree in the background. Whether you are reading quietly to yourself to calm your heart to the slow and expectant beat of the coming celebration of Christ come to earth as a wee babe, or perhaps reading aloud to inspire the hearts of your children to wondrous expectation – delight in beautiful poetry and books to combat the hustle and bustle that brings overwhelm and exhaustion.
Our favorite Advent books are all listed here.
Here is one of our favorite Advent poems for you to enjoy.
Advent by Christina Rossetti:
This Advent moon shines cold and clear,
These Advent nights are long;
Our lamps have burned year after year
And still their flame is strong.
'Watchman, what of the night?' we cry,
Heart-sick with hope deferred:
'No speaking signs are in the sky,'
Is still the watchman's word.
The Porter watches at the gate,
The servants watch within;
The watch is long betimes and late,
The prize is slow to win.
'Watchman, what of the night?' But still
His answer sounds the same:
'No daybreak tops the utmost hill,
Nor pale our lamps of flame.'
One to another hear them speak
The patient virgins wise:
'Surely He is not far to seek' –
'All night we watch and rise.'
'The days are evil looking back,
The coming days are dim;
Yet count we not His promise slack,
But watch and wait for Him.'
One with another, soul with soul,
They kindle fire from fire:
'Friends watch us who have touched the goal.'
'They urge us, come up higher.'
'With them shall rest our waysore feet,
With them is built our home,
With Christ.' – 'They sweet, but He most sweet,
Sweeter than honeycomb.'
There no more parting, no more pain,
The distant ones brought near,
The lost so long are found again,
Long lost but longer dear:
Eye hath not seen, ear hath not heard,
Nor heart conceived that rest,
With them our good things long deferred,
With Jesus Christ our Best.
We weep because the night is long,
We laugh for day shall rise,
We sing a slow contented song
And knock at Paradise.
Weeping we hold Him fast, Who wept
For us, we hold Him fast;
And will not let Him go except
He bless us first or last.
Weeping we hold Him fast to-night;
We will not let Him go
Till daybreak smite our wearied sight
And summer smite the snow:
Then figs shall bud, and dove with dove
Shall coo the livelong day;
Then He shall say, 'Arise, My love,
My fair one, come away.'
However you celebrate Advent this year, remember that there is peace, joy, hope, and a Father who loves you abundantly beyond measure. Let Him care for your weary heart and be restored.
About Lara
Lara believes you are the gate-keeper, grace-giver, and cultivator of your home – a sacred space – and when you step into your God-given capacity you are capable of providing a delightful and life-giving education to your children. Lara is the creator of The Homeschool Garden Morning Time, A Gentle Advent resources, and the main writer at Everyday Graces Homeschool. You can join in Everyday Graces homeschool and mother culture adventures on Instagram.
Be sure to take a few minutes to visit the sponsors of the 2019 Homeschooling Through the Holidays series: