This post may contain affiliate links.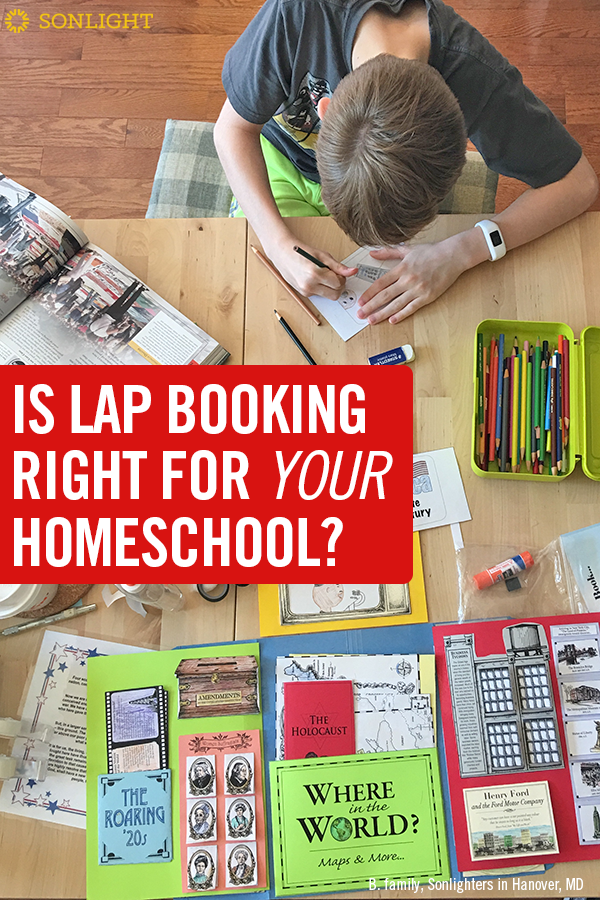 A lap book serves as a method for a student to collect, organize, and display the information that they have learned on a certain topic. They are, put most simply, a collection of papercrafts affixed to a file folder base.
Homeschoolers have used lap books to great benefit in a variety of subject areas, and they can vary in complexity depending on the level of the student constructing them. Sonlight currently offers four lap book kits, covering both American history and world history.
The question today is: are these additional resources a good fit for your homeschool? You certainly don't need lap books, but many families find them an excellent way to enrich their learning experience. Are you one of those families? Read on to see.
1. Who Are Lap Books For?
Pre-made lap book sets are perfect for homeschool moms who like the theory behind hands-on activities to reinforce history lessons, but either don't enjoy or have time for the work involved in researching ideas and putting activities together from scratch. Sonlight's lap book sets come complete with detailed instructions and all the individual supplies needed to complete the project.
There's no need to spend hours searching the internet for ideas or make a special trip to the store for supplies. For a busy homeschool mom who would like an additional learning activity without having to put it all together herself, a lap book kit is a fantastic idea!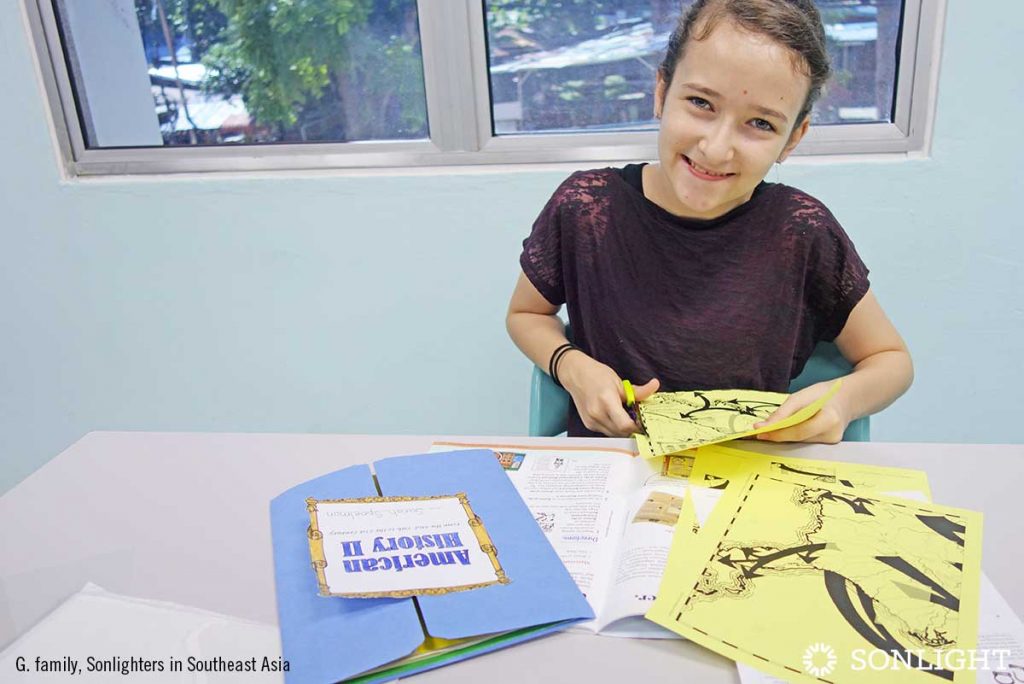 Lap booking will suit some kids better than others. The child who finds cutting, coloring, and pasting tedious or physically difficult won't appreciate the projects. That's okay! You can skip lap books in that case.
But the student who has a penchant for crafting may adore lap books. Sonlight's kits work well for children who have outgrown the simple crafts of early elementary and want a hands-on learning activity with significantly more depth—both in content and artistic flair.
These lap book projects are not mere busy work, nor are they exercises in free creativity—each individual project is loaded with historical information to be read and absorbed.
If you tried lap booking in the past and discarded the method as being too prep-intensive and open-ended, a complete kit can provide the structure you need. Everything is there: the pre-printed pages (on colored paper, even), the adhesives and craft supplies, the factual information for each papercraft, and step-by-step directions.
2. When to Begin Lap Booking?
The lap book kits from Sonlight are for students ranging from 8-13 years old. Note that if your children are on the lower end of the range you should expect to do much of the project alongside them. Students on the older end of the age spectrum, especially those with a more independent learning personality or an especially crafty bent, maybe able to complete the entire project with very little parental input.
Each of the four lap book kits is designed to be used alongside a specific HBL program, and the Instructor's Guide includes a schedule for each activity. But thanks to the comprehensive instruction booklet in the lap book kit, the projects can be used even if you're not a Sonlight curriculum user.
3. Why Add Lap Booking to Your Homeschool Routine?
Aren't the HBL programs enough on their own? Sure! That's the beauty of homeschooling with Sonlight—the Instructor's Guides contain a comprehensive History / Bible / Literature curriculum for the year with optional projects suggested throughout. You can pick and choose the reinforcement activities that suit your family best.
But some families want even more extras, and lap books fit the need.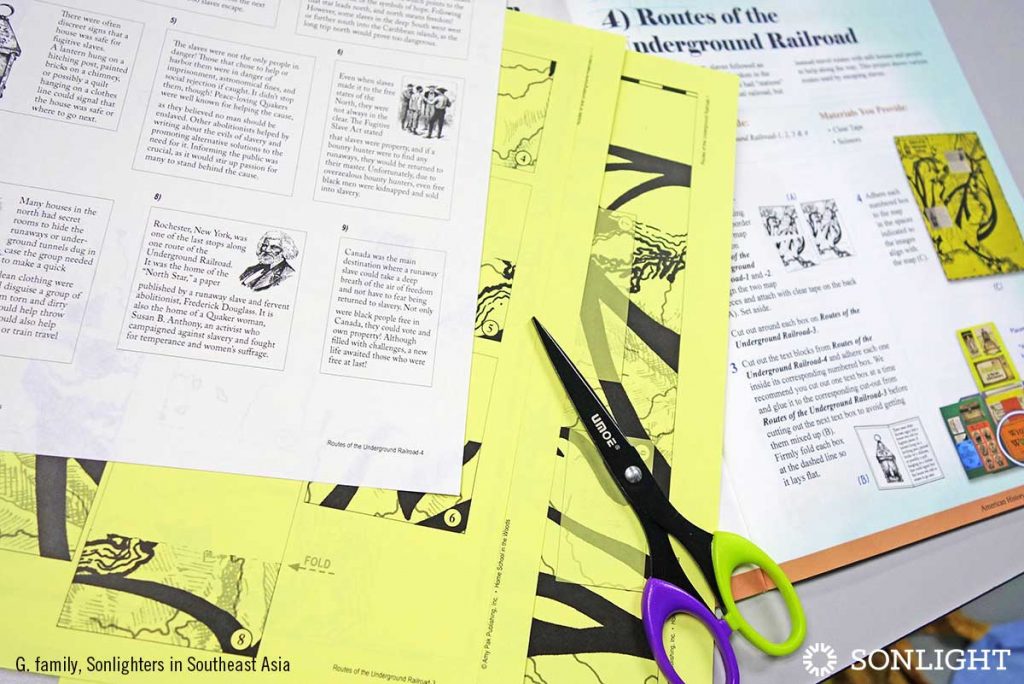 Because our own family has limited space for homeschooling, lap books are a great addition. Kids can complete dozens of information-filled craft projects that all fit into a single file folder! Bulkier crafts or learning activities that require getting outside or getting messy are more difficult for us because we're homeschooling out of a small apartment with no yard.
4. How to Fit Lap Booking into an Already Full Homeschool Schedule?
If you believe that lap booking could increase the depth of your history program, try a kit! The time commitment is not immense. Some aspects of the lap book project, like cutting and coloring, can serve as quiet activities for little hands that like to stay occupied while listening to a Read-Aloud. The lap book will not necessarily need to be worked on every day; it's scheduled at intervals throughout the length of the history program.
If you're using Sonlight, it's likely that you have a special place in your heart for learning history, and lap booking might just be a memorable way to extend your studies in a way you haven't tried before. See the options here.
Author bio: Rachel Guerrero was homeschooled with Sonlight while growing up in Southeast Asia. She earned a Bachelor's Degree in Mandarin Chinese and continues to share her love for education, language, and culture as she now lives in Southeast Asia with her husband and son. They speak a mixture of three languages at home, but she writes in only one language on her blog The Random Writings.