This post may contain affiliate links.
Welcome to another featured post in the 2019-2020 Homeschool Curriculum Expo! Today's featured publisher is Sonlight- and they have some amazing tips for you as well as a freebie and a BIG giveaway! Check it out…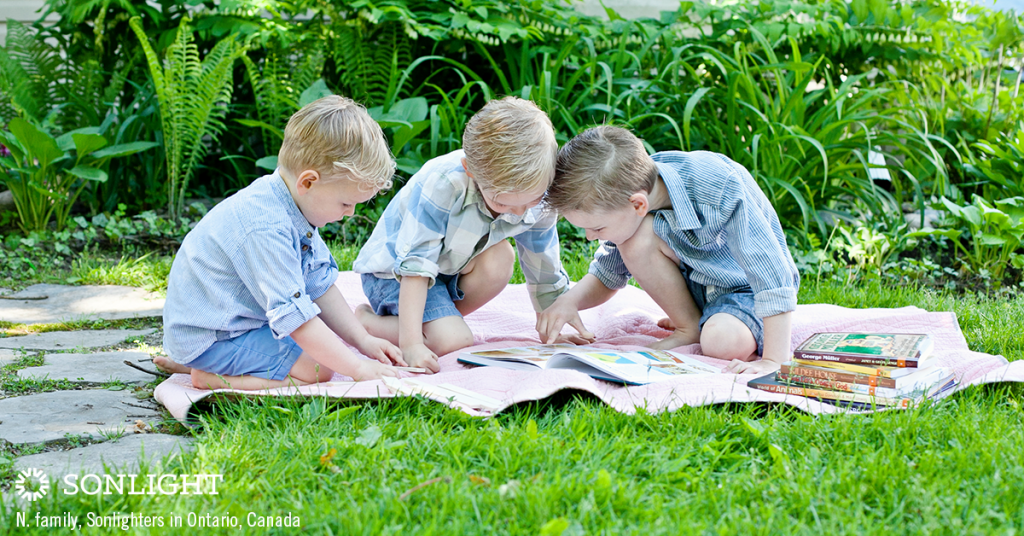 We've invested prayer, time, and money into our curriculum choice for the new school year. A fresh homeschool planner sits on the kitchen table. We've chosen goals for each child and have a vision for the larger purpose of our homeschool. Now the question is this—how can we begin the school year well?
To bring you a wealth of options, I quizzed veteran homeschool moms for their tips. (If you'd like to be part of a supportive network of homeschool moms you can tap for advice, join me in the Sonlight Connections group on Facebook).
---
"The beginning is the most important part of the work" Plato
---
1. Talk Through Your Lesson Plans with a Friend
Before starting a new school year, Kirstin talks through her plans with a friend. She says, "My friend doesn't have to say a word, but it helps me to hear my plan through another person's perspective. It helps me to see if my plans would overwhelm my children. I also spot inconsistencies in my priorities, holes in my schedule, and subjects that I overlooked."
2. Begin Your School Year Gradually
Susan recommends a rolling start: she slowly eases into the school routine over time, adding one or two additional subjects from her Instructor's Guide each day until they are operating at a full schedule.
Nicole adds, "Too much too soon is too much. It is all about momentum and gradually building habits. Everything is difficult until it is easy. Give room for that growth."
3. Begin Your School Year on a Wednesday
Renee begins each school year on a Wednesday so that she can get a few days under her belt, use the weekend to reassess, and begin strong the following Monday. So, Week 1 in her Instructor's Guide is actually stretched across a week and a half, providing helpful margin for the first few days.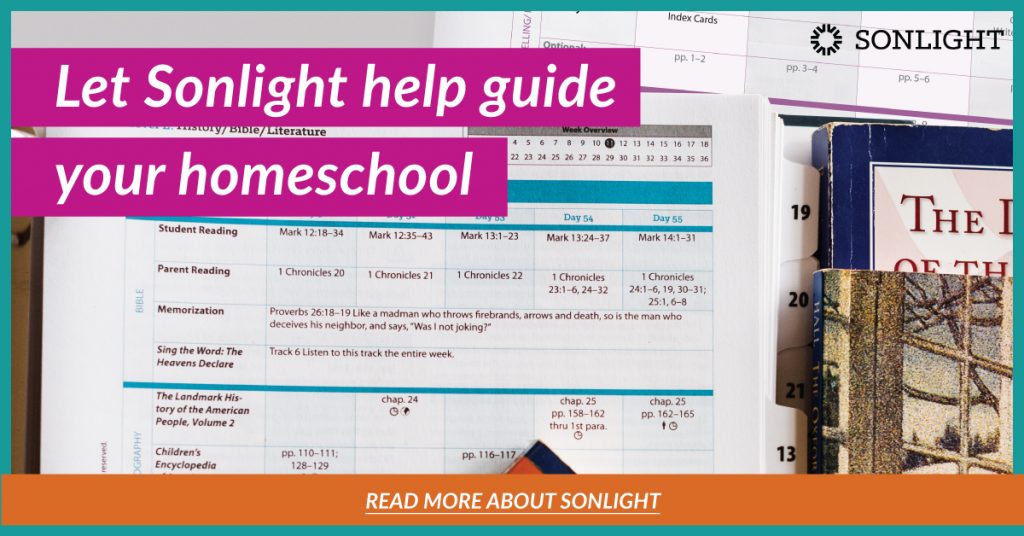 4. Do a Tech Run of Equipment and Supplies
A few days before the first day, we run through our schedule to make sure that we have all of our books and supplies on hand and that all technical devices are ready to roll.  We open packaging, review passwords, practice sign-in procedures and verify that everything technical is working. (This is especially helpful for computer-based curriculum like Math-U-See and Rosetta Stone.)
I go all out for the first day of school. When fall is in the air and everyone's got back-to-school excitement, I make the most of that fresh energy! I choose a theme—like Middle Ages Knights and Castles or Hot Air Balloons, decorate the breakfast table, and plan a fun activity for the kids.
It may take a few years for you to discover a first-day tradition that works for you. That's okay!
Janet makes a simple cake in the shape of a pencil and gets her kids right down to work. She says that they are always excited to crack open the books at the start of a new year, so she likes to make the most of their enthusiasm.
Shaley writes, "We always have a not-back-to-school celebration the day that all the local schools resume classes in the fall. We go out for breakfast and then to the zoo or the science museum—any place we love but generally avoid all summer because it's too crowded until school starts."
6. Begin with the End in Mind
A healthy dose of perspective is always helpful in the excitement of a new school year. I like to ask myself, "Years from now, what do I want my children to remember about homeschooling?" The answer to that question quickly reorients me to focus on the things that are most important.
Nichole encourages us to "Prepare and block your times off, but then lower your expectations and be in the moment. Take it one day at a time. Know that each day is a gift, and together they become a perfect, unique work. Begin with the end in mind."
FREEBIE for YOU!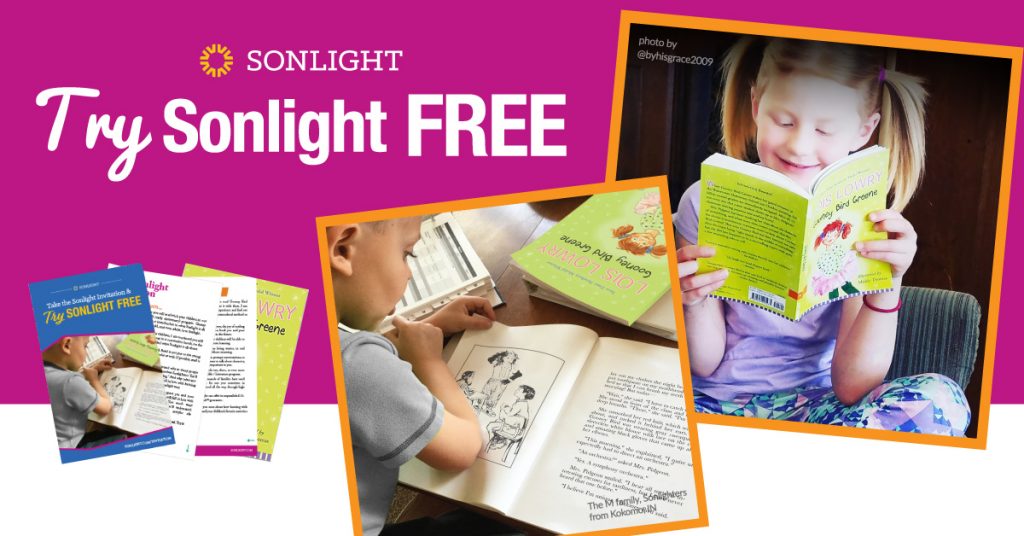 Get a free book and schedule to read with your children. Try Sonlight firsthand and see if this way of learning is right for your family. Sign up here.
With this free sample, you'll experience what it's like to use Sonlight–the books, the schedule, and the notes.
You will either receive Gooney Bird Greene, from Sonlight's History / Bible / Literature B program, for students ages 6-8, or A Single Shard, from Sonlight's History / Bible / Literature G program, for students ages 11-13.
When your book arrives, just follow the schedule. You'll read the assigned pages, then go through the notes and questions for each assignment.
As you read the book and complete the discussion questions, you'll talk about what makes an impression on you. Real education takes place in these discussions. This is where you get to share your heart with your children. And this connection is what's so special about a Sonlight education.
The wonderful books in every Sonlight program can be enjoyed by students from a wide range of ages! So while the books in this free trial may not match your student's age, they are still a pleasure to read.
Just one more benefit of Sonlight: Your whole family can join in!
GIVEAWAY!!!
One lucky family will win a complete set of Sonlight's Read-Alouds: Level A!
Two dozen outstanding books for you to read-aloud to your children. Some, such as Winnie-the-Pooh and My Father's Dragon, are set in completely imaginary worlds, with charming illustrations and light-hearted adventures. You'll also read other fiction set in China, in a lighthouse at Christmas, in an apartment house in Florida, and in the streets of Paris.
You'll enjoy a wonderful variety of fascinating nonfiction as well: two stories set in the ocean off the coast of Florida; a biography of Johnny Appleseed, born in New England in 1774; a book about the nurses who served in Appalachia in the 1920s; the dramatic overthrow of a tyrant in the Alps in 1291; a story set in France during WWII; and one about the unexpected adventures of a very unusual pet.
To enter to win, simply use the Rafflecopter form below! Open to US residents only. All entries will be verified. The giveaway period will close on 7/7/19 at 11:59pm EST and the winner will be announced via email the following day. Good luck!