This post may contain affiliate links.
This post is part of the 2017 Homeschooling through the Holidays series and was written by Joanie from Simple Living Mama.
My little girl bounded into the living room, eyes bright, full of excitement. She carefully pulled out her favorite Nutcracker ornament from the big storage box my husband had hauled inside from our storage room. Carefully, she placed the ornament on our Christmas tree. The lights twinkled as the Nutcracker twirled. My daughter exclaimed, "Perfect!" Christmas was on its way!
Christmas is such an exciting time for our children, especially our little preschoolers. Visions of sugar plums and brightly decorated packages with name tags just for them dance in their heads. Is there a way we can take away some of the commercialization of Christmas and teach our preschooler the true meaning of Christmas? I think we can! Here are 5 ways to teach your preschooler the true meaning of Christmas.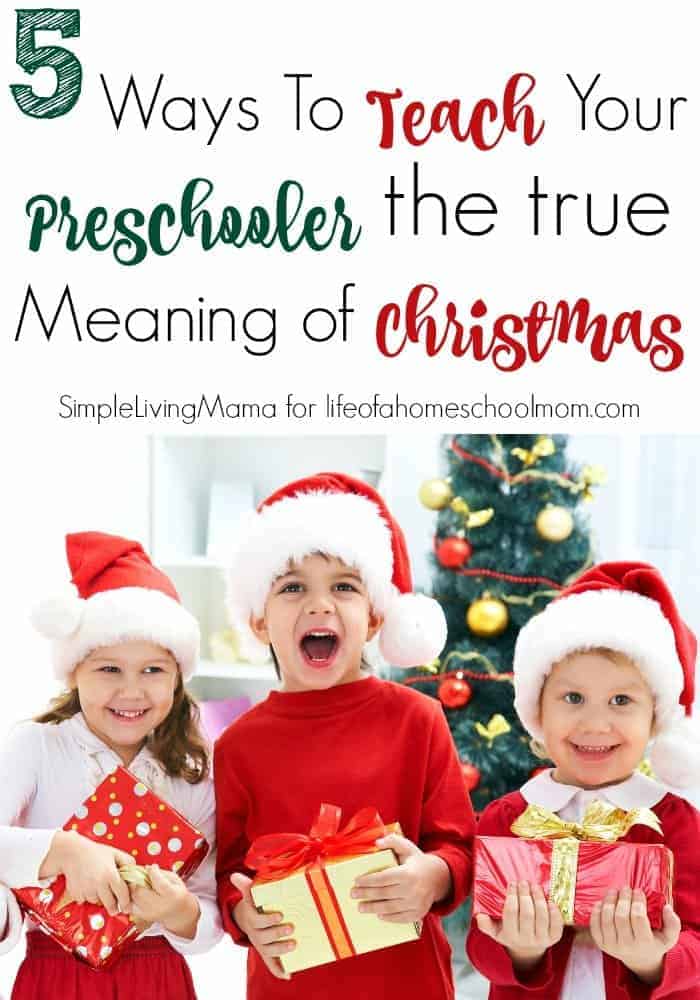 5 Ways to Teach Your Preschooler the True Meaning of Christmas
Act out the Christmas Story
One way to really help your children grasp is give them a way to act out the Christmas story. A toy nativity set is wonderful for this activity. I also have free printable nativity puppets that I use with my children. They can be placed on popsicle sticks or you can do what I did and put little magnets on the back so the kids can use the fridge or a metal sheet pan to play with them.
Invite a Shepherd into Your Home
Sounds silly, huh? Last year we did the Shepherd on the Search as an alternative to the Elf on a Shelf. It was so much fun! Each night I hid the shepherd and the kids would wake up to find where he was. On Christmas Day, our shepherd finally made it to the nativity scene to see the Baby Jesus. This activity comes with a sweet story that helps young kids really understand the meaning of Christmas.
Read the Christmas Story Together
The entire family can listen while a parent reads the Christmas story straight from the Bible. Don't underestimate your preschooler's ability to comprehend actual scripture. We enjoy doing a special Bible study together as a family and we work through the scriptures for 30 days leading up to Christmas.
Do Christmas School
For about one week before Christmas we have Christmas school. This is when I print out Christmas themed printables and we do our regular lessons with a Christmas twist. We read inspirational Christmas books and just enjoy the season together as a family.
Christmas is all about celebrating the birth of Christ. God sent his only son to earth so that he may die for our sins. The least we can do is be more Christ-like in our actions and show kindness to others. Teach your kids how good it feels to give. Bake cookies for a neighbor, write Christmas cards to soldiers overseas. There are several possibilities.
Even young children have the ability to understand the true meaning of Christmas. I hope some of these ideas help you this Christmas season!
Joanie Boeckman is the blogger behind Simple Living Mama where she helps moms simplify life, home, and homeschool. She is the creator of the Simple Christmas Planner and loves to inspire moms to bring simplicity back to their lives.
2017 Homeschooling Through the Holidays Sponsors: