This post may contain affiliate links.
This post is for letter "I" in the 2016 ABCs of Homeschooling Through the Holidays series, click here to see all posts.
The Christmas season is one that brings joy and excitement to many families around the world. It is a time to celebrate traditions, spend time with loved ones, and to give and receive gifts.
As a child, I remember clearly scouring the Sears Christmas Catalogue, dog-earing each and every page that contained a toy that I was even remotely interested in. I circled items without the slightest bit of hesitation. I am sure that I circled many.
I knew that I would not receive each and every gift that I requested, but I did know that Christmas would bring joy, food, laughter, and gifts.
We were a family that lived with the same yellow-with-orange-swirls countertops from the 1970's, drove our vehicles until they could not be driven anymore, and fixed what was broken. To this day I can still see my Oma darning her socks, and remember that nearly every dinner was homemade (aside from the occasional "Zoodles" or "Alphagetti"). My parents appeared to be wise with their finances, and we were blessed because of it.
The Need for More
In this day and age of hyper-consumerism, it is easy to become sucked into the need for "more." I experienced it too as a young girl – each toy in that catalogue was new and exciting and promised me a joy that was at best, fleeting.
Do you perhaps see it in your children too?
This desire for more?
Do they sometimes speak of each toy as their "favourite," as if they could never imagine life without it?
As parents, what can we do to redirect their focus onto something or someone outside of themselves?
Recognizing Social Responsibility
I feel immensely privileged as I write this. Even having experienced financial frustrations along our journey, I know without a doubt that 'we' are of the top percentage in the world.
To quote Jen Hatmaker in her book "Seven":
"How can I be socially responsible if unaware that I reside in the top percentage of wealth in the world? (You probably do too: Make $35,000 a year? Top 4 percent. $50,000? Top 1 percent). Excess has impaired perspective in America; we are the richest people on earth, praying to get richer…when half the global population lives on less than $2 a day…"
When I absorb this truth, this heart-breaking truth, I recognize the opportunity, or dare I say, responsibility to give of my excess, no matter how little it may be at the time.
Can I inspire my children to do the same? Can I motivate them to recognize a need in others? Even at the tender age of three and five, I believe it is possible.
Recognizing a need and inspiring a heart of giving can begin in even the simplest of ways.
Follow along as I share several tangible examples that can bring awareness to our children and families, and inspire a heart of giving.
Volunteer Work
Volunteer work is a wonderful way to open our children's eyes to the immediate needs of our community.
Young children can join grandparents or friends of the family at a nursing home (i.e. retirement home) for an afternoon of games.
If your child plays an instrument, I encourage you to set up a time for them to play music for the elderly in your area. I remember joining my Oma in the common area of our local nursing home to play piano for her and several of her friends (and anyone else that happened to shuffle by)! To her, the quality of my playing was not what was important, it was the joy of being in my presence and perhaps it provided some bragging rights amongst her friends.
Your nearby hospital might also be accepting volunteers to provide care in various settings.
Other fantastic examples include helping at a soup kitchen as a family, leading and/or participating in church or community groups, serving at a breakfast club if your school provides such a service, or tutoring younger children in school.
Random Acts of Senseless Kindness (RASKs)
In high school I was a part of a church youth group. One of my favourite events was in the Fall when we would drive around the neighbourhood and look for yards that needed to be raked.
Imagine the surprise on each homeowner's face when a group of hooligans, ahem, willing teenagers offered to rake their yard for free. Not only did we have a great time, we recognized the immediate blessing we were to these individuals.
Raking yards is just one example of a random act of kindness. Shoveling driveways, babysitting, and caring for pets are all other ways that youngsters can give back to their community.
Our children have had the opportunity to pet-sit for two fish in the past year. This simple act of service was a delight to them, and provided an opportunity to demonstrate responsibility and love toward their friends.
If you have teenagers in your home, encourage them to offer their time to friends and family by helping with odd jobs around the home.
Practicing a heart of giving as a child can inspire the same as an adult. I remember years ago in my women's group, we were to write on a sheet of paper one thing that we needed help with. All of the papers were laid out on a table, and we went one-by-one to choose something that we could help with. I am not yet gifted in decorating cakes, and since our only son at the time was nearing his first birthday, I was looking for someone to decorate a cake for me! One of the girls in our group is very skilled at baking and decorating, and finds much joy in it. She offered to serve in my need; I was immensely blessed by her gifting!
One of my most favourite ways to bless others however, is to bake with my children and then to choose friends and family to bless with our baked goods.
Giving Possessions: New and Used
Choosing used toys to donate is a very clear way to show our children that there are others in need, and that we have much to give. This might also one of the more difficult ways to inspire a heart of giving. I find that my children are still very much attached to their 'stuff.'
To introduce the physical act of giving, we have decided to participate in Operation Christmas Child led by Samaritan's Purse (the "shoebox program"). This is a simple and concrete way to show our children that items such as toothbrushes, soap, and t-shirts are of great importance to children in need. And while our own children are still too young to purchase these gifts on their own, they are a part of the packing process.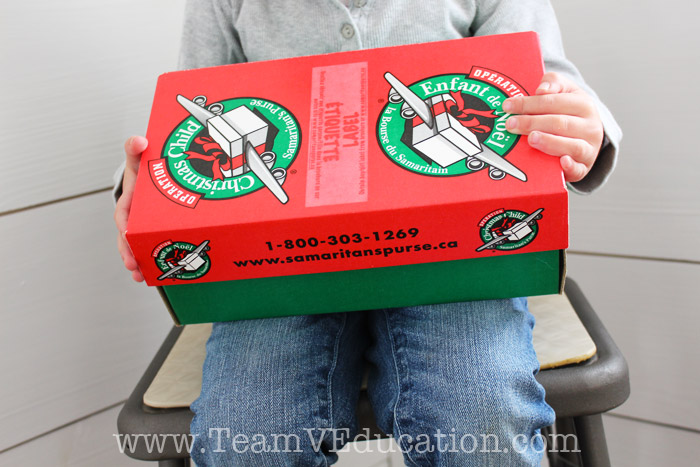 Your local Social Service Organization mostly likely has a Christmas giving program that encourages food, clothing, and gift donations leading up to Christmas. At his yearly Christmas party, one of our neighbours asks his guests to bring new toys for our local organization. He collects all of these toys and brings a large load each year for the children in our region.
In such a situation, children can purchase toys either with their own money or with the support of their parents to give to those in need. Our son loves to choose gifts for birthdays; I am sure that this would bring just as much joy!
Sponsor a Child
Lastly, another wonderful way to inspire a heart of giving is to sponsor a child through a global charity such as World Vision or Compassion.
A dear friend of mine has sponsored the same young girl for many years and this past Christmas chose to donate an extra $100 to further support her and her family. From my understanding, the monthly donation covers school costs and other day-to-day items; however, this extra gesture filled a great need for this family! My best friend later received a thank you letter together with a photo depicting large bags of grains that were purchased with this money. To provide an idea of what can be done with $100, the thank you letter contained this list: "ghee, rice, lentils, washing soaps, bathing soaps, savlon, cooking oil, flour, turmeric powder, chili powder, toothpaste, etc."
I know of many families who sponsor children through various charities, which allows our own children to form a connection with others around the globe. This is a wonderful way to initiate deeper conversations with our young ones and to encourage a heart that is open and willing to give.
Find a Way to Give This Christmas
I encourage you to consider as a family as least one tangible way that you can give to others in your community or beyond. If you already practice a heart of giving, encourage your children to share with others their experiences in giving to those in need.
Use the Holidays to inspire your entire family to give as they feel comfortable, be it their time, talents, possessions, or wealth. And above all, capture and share your joy throughout the holiday season!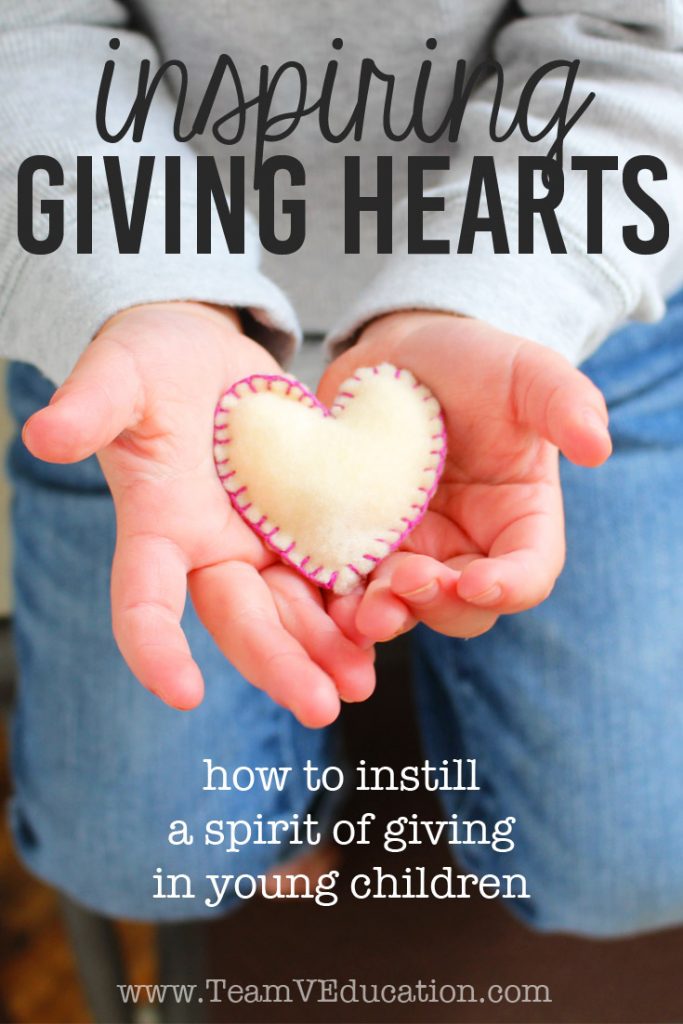 Yvonne writes together with her husband at Team V Education. She is a homeschooling mother of four children ages 3 months to nearly 6 years. Prior to choosing to stay home with her children, Yvonne taught both in the Public and Private school systems primarily as a Kindergarten teacher. She is passionate about child-led education and inspiring a love of learning in her children. You can find more of Team V Education on their Blog, Pinterest, and Facebook.
Visit our 2016 Homeschooling Through the Holidays sponsors: