This post may contain affiliate links.
Homeschool conventions hold a special place in my heart. I love everything about them: the speakers, being surrounded by like-minded people, but most of all, the book fair!
If you've been to a convention before, you know the book fair portion can be pretty overwhelming. There are hundreds of vendors, with the most awesome products. It is very easy to spend considerably more money than you intend to spend at a book fair.
Sticking to your budget at a homeschool convention can be a hard task, but it can be done if you follow these seven tips.
As you begin to plan for the upcoming school year, have a good idea of what type of curriculum you will be shopping for. Begin making a list of your curriculum choices for the next year. That way you will have a good idea of what you're shopping for before you step foot into the convention hall. Walking in with no plan at all is a surefire way to blow your budget.
Research which vendors will be present at the convention. Write down particular products from each vendor that you want to check out. Make a list of questions for the vendor. Doing all of this ahead of time will save you time and money.
Leave the credit cards at home. I have found the best idea is to bring a set amount of cash. When the money is gone, it's gone. You don't have to worry about spending more than you intend.
Do cost comparisons while at the convention. Many vendors carry the same products, often times at different prices. Shop around, your wallet will thank you!
Don't buy anything your first trip through the book fair. If you're staying overnight, don't buy anything the first day. Collect information from vendors, browse the products and then find a quiet place to process your thoughts and make your final shopping plan.
Know your prices! Bringing a smart phone/tablet/laptop is a great idea to compare book fair prices (which typically run a little bit cheaper) to online prices. Don't forget to factor in shipping and handling costs.
Stick to your plan. It is easy to become distracted. Many products will look fun and exciting, but if it doesn't fit your child's learning style and/or your chosen homeschooling method, it simply isn't worth it.
I've created this free printable for you to enhance your book fair experience. It includes space for you to write your shopping list, areas for cost comparison at the convention, and a space to write the online price of each item. Hopefully following these tips and utilizing this free printable will help you to stick to your budget while enjoying a homeschool convention!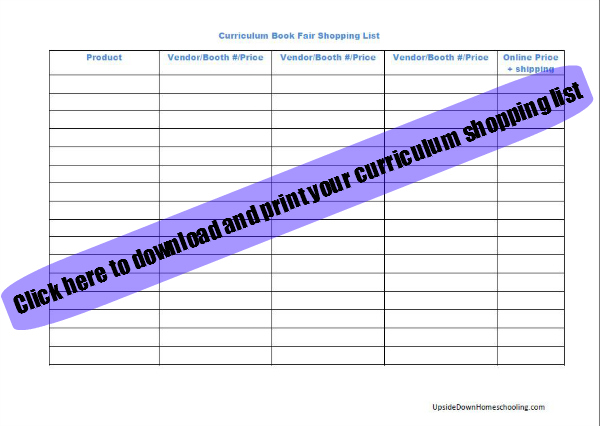 Happy shopping!
Heading to your first homeschool conference? Need some extra tips? My friend, Jen from Word Traveling has written a wonderful post that includes 50 Tips for Surviving a Homeschool Conference. Go check it out!