This post may contain affiliate links.
Handmade gifts are a wonderful way to give something personal to the people in your life and also stay within a budget. But when it comes to finding gifts for kids to make, it is sometimes hard to come up with a project that adults will actually appreciate receiving. As much as we adults treasure the sweetness of a child's effort, many kids' craft projects end up kind of junky looking.
That is one of the reasons I like these Crystal Snowflake Ornaments. Kids (or adults!) create snowflake shapes using pipe cleaners, then allow them to soak in a borax and water solution overnight. Crystals will form along the pipe cleaner, making a sparkly ornament ideal for gift giving! You can take this idea and expand it, if you'd prefer to make different shapes. We have made hearts, letters, stars and more.
One caveat: this is not an appropriate project for very young children who might be tempted to put them in their mouths!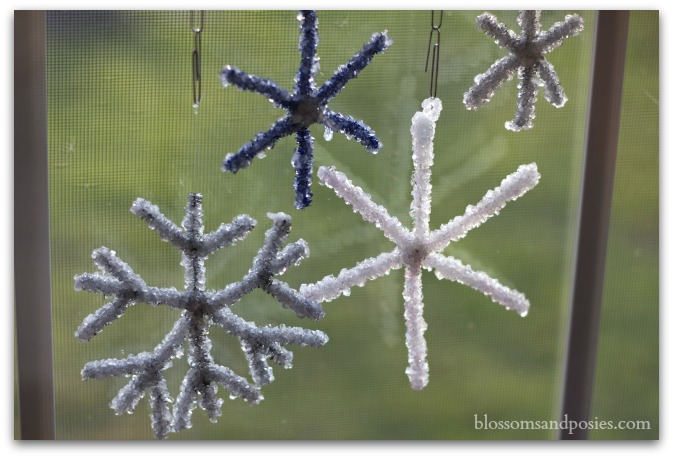 Crystal Snowflake Ornaments

Materials
• pipe cleaners
• wire cutters
• fishing line or thread/string
• cooking pot that you will not use for food **
• borax (we use 20 Mule Team Borax, found in the laundry section)
• water
• dowel/pencil
• paper clips
Instructions
Create snowflake shapes using pipe cleaners. Try using different colored pipe cleaners for different effects.

Tie a loop of thread, string or fishing line to the top of each snowflake.

Fill a pot with water and heat until it boils.

Remove the pot from the stove and stir in borax until the water is saturated (if you see borax floating in the water you'll know it's saturated).

Slide paperclips onto the loops of your pipe cleaner snowflakes and then slide the paperclips onto the dowel or pencil.

Lay the dowel across the top of the pot and let the snowflakes float loose in the water. Adjust them along the dowel so that they are not touching each other, or the sides or bottom of the pot. Add or remove paperclips to lower or raise the snowflakes in the liquid until they are covered but not touching the bottom.

Leave the snowflakes and pot undisturbed for at least twelve hours, until the crystals are the size you like.

Let the snowflakes dry then hang them or wrap them as gifts!

Note: keep these out of reach of little children – they are not edible!!!
** If you don't have a beat-up old pot for crafts, go to a thrift shop or garage sale and pick one up for pennies. It is much better to have a dedicated pot for craft use than to hope that you have gotten non-edible materials well enough cleaned out! Borax can be unsafe in large amounts – be careful! Alternately, you can heat the water, pour it into a smaller non-food crafting container then mix in the borax. We like to use a big pot so we can make a lot at once.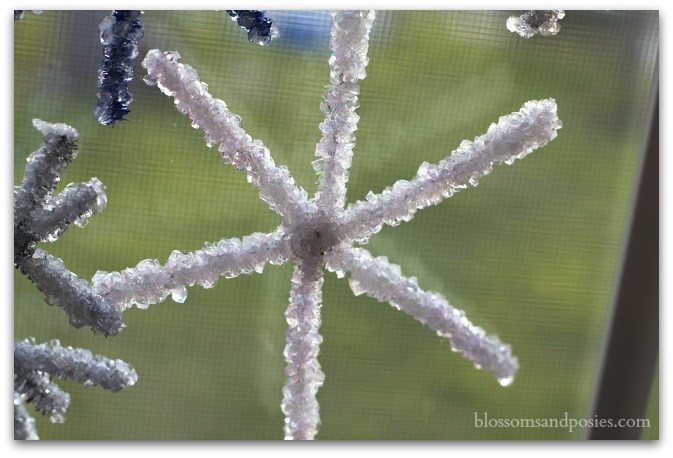 Patti and Abbie Brown enjoy handwork, crafting, cooking and generally being creative. We blog together at Blossoms and Posies where we encourage girls and their mothers to bloom at home. We are learning along the way and laughing at our bloopers every day! In addition to our blog, you can find us on Facebook, Pinterest and Twitter.
This post is part of the 25 Frugal Days of Christmas.

Be sure to visit our wonderful sponsors:
Are you looking for more frugal Christmas ideas? Check out the other posts in this series:
Day 1: Create Your Own Photo Christmas Cards with free templates and tutorial
Day 2: Making Fun and Affordable Christmas Gifts
Day 3: How to Have a $5 Christmas
Day 4: Cookies in a Jar: a Frugal Christmas Recipe Round up with FREE printable gift tags
Day 5: Snowflake Card Craft for Kids
Day 6: DIY Snowman Ornament
Day 7: Printable Handmade with Love Gift Tags
Day 8: Frugal Family Traditions
Day 9: Bringing the 12 Days of Christmas to Life for your Spouse
Day 10: A Frugal Family Christmas Tradition
Day11: Frugal Gift Idea: DIY Christmas Crackers
Day 12: 6 Ways to Repurpose Kids Art for Christmas
Day 13: Repurposed, Reused, Free and Frugal Christmas Decor
Day 14: Frugal Gift Idea: Favorite Things Memory Box
Day 15: Frugal Family Christmas Tradition Ideas
Day 16: Eco-Friendly Gift Wrapping Ideas
Day 17: Frugal Christmas Ornament for Kids
Day 18: Christmas Lights Drive {with printable awards}
Day 19: Frugal Gift Idea: Food!
Day 20: 4 DIY Christmas Crafts/Decorations
Day 21: Homemade Peppermint Scented Playdough
Day 22: 5 Therapeutic Gifts for Special Needs Kids